Hi there! It seems like FOREVER since our last challenge since March had a 5th week thrown in there!!!! Today we are back with a SUPER fun challenge. I know I say that every challenge, but I love them all, lol! This week's challenge is all about trying something new. A new technique! There is inspiration everywhere!!! All over the web. Facebook. Pinterest. Challenge blogs…..  And I've bookmarked a TON of fun techniques I want to try! I use a private pinterest board and also I star blogs that I come across that inspire me… I use Bloglovin for my mac and I use Newsify on my Iphone for blog following after Google Reader bit the dust.. 🙂
For my card, I tried dry embossing with my dies as well as ghost stamping… Two techniques I have seen for a while but have never tried before.. Here is the card I made for the challenge. Very clean and simple and easy to mass produce.
See the embossed background? I made it with my die cutting machine and this die. I love that stitched border! The bench and sentiment are from this set and the clouds are from this stencil set. Rather than walk you thru how I did this, I filmed it! Yay! You can watch it here or over on my youtube channel in HD, which is way better – just sayin!
[youtube http://www.youtube.com/watch?v=n0s2rLCSSJg]
 Now, be sure to head on over to the Lawnscaping Challenge page to see what the rest of the design team created and what new techniques they have used (yup, I've got some more techniques I want to try inspired by them)… Also, during the week, the fab Facebook Inspiration Team will be showcasing products featuring new techniques over on our facebook page as well so you don't want to miss out!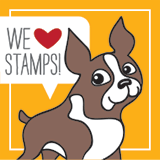 Goodies used: