It's here! It's here! Release day is here! Let's get right to it because it is finally available NOW!
INKS!!! We all love Catherine Pooler inks. They are awesome and unique and bright and just makes us happy! Well, introducing CP MINI inks! They are super cute, rectangular shaped (imagine 2 mini ink cube side by side to get an idea of width) and the same exact formulation as her standard size ink pads!!!! There are 14 MINI Inks releasing today…. And the sets come in a box so they are already organized for you. Click HERE to check out the CP Minis!
Grab it HERE before it's gone!
Also releasing today is the brand new product! The CANVO Bullet Journal! This little guy is amazing! The pages are thick, like magic thick! Other journals/planners I have used in the past annoyed me because the ink would bleed thru to the other side. This paper is very durable and smooth. It TRIED to get ink bleeding. I smooshed on ink pads, tombow dual brush markers and sharpies all onto one page, flipped it over and not a single bleed thru. True story!
I plan to use my bullet journal in a non-traditional way. I don't plan on doing weekly spreads with dates. It's going to be a beautiful "to do list" type journal plus something other trackers mixed in (birthday, dt deadline trackers, blog/video ideas, etc). All in one place… I call this a #whateveryouwantittobe Canvo Bullet Journal.
Pages measure 7 x 9″
Dot grid layout
150 numbered pages
Heavy weight pages
STAMP SETS:
There are also three coordinating stamps releasing that is great for the CANVO and for your cardmaking! You can check them out HERE or in the linked supply list below.
New Release Product links (Affiliate links used at no cost to you):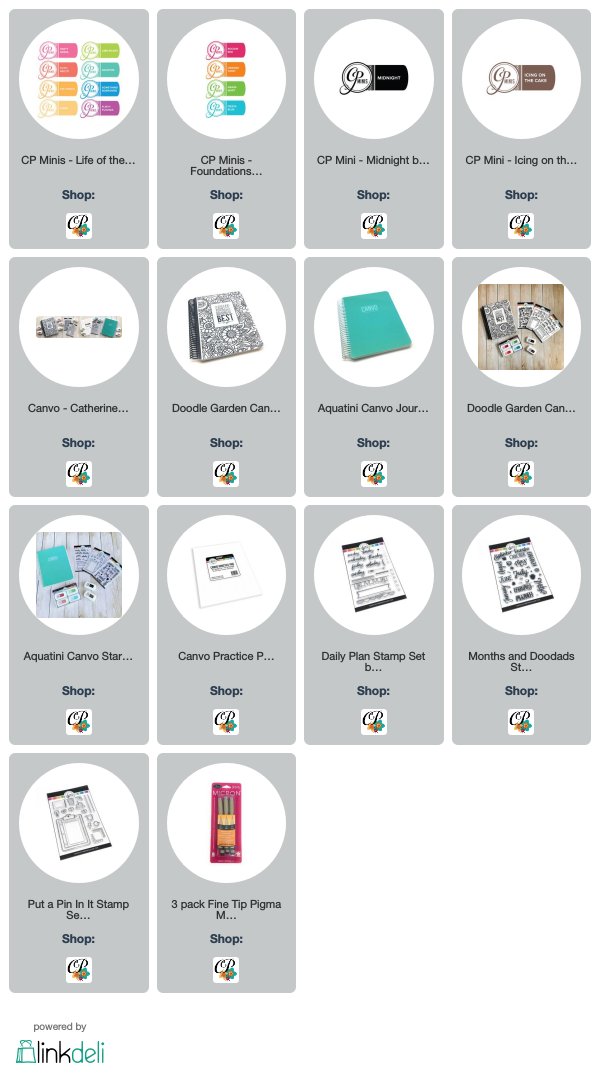 Run, don't walk! This is one of those moments where someone saw a need and filled that gap with this amazing product!!!!!  I actually went to Raleigh this weekend with my good friend and fellow Creative Team Member Kristie Goulet! We were there when the first Product Launch was revealed! It was an amazing time and I am so proud of my dear friend, CP and all that she has accomplished! Plus the friendships we have formed!